Welcome to another Gym Leader Challenge meta snapshot! As a follow up to the 2022 snapshot I posted last month, I thought I'd bring to you the most common and most effective Pokemon, Trainers and Types from January 2023. A common trend that is developing is that unique Pokemon and Trainers tend to make up the highest win rate lists, while the most commonly played Pokemon have middling efficacy (except for Colorless Pokemon).
Pokemon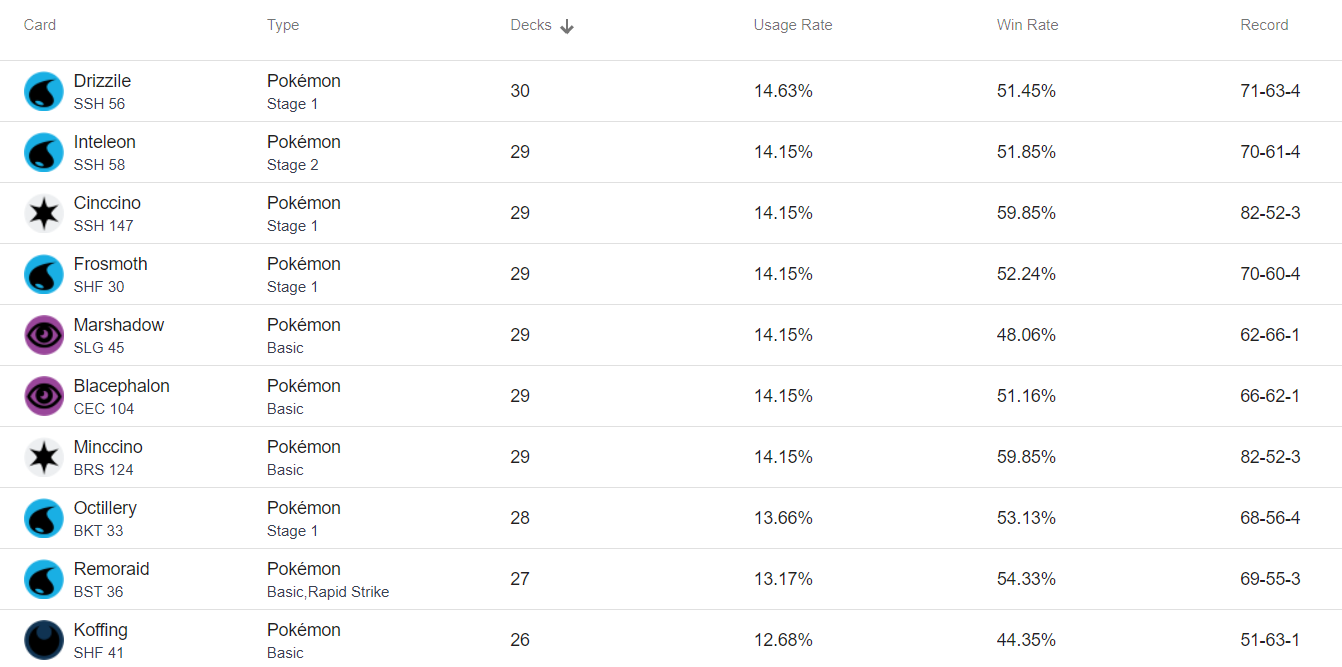 This month, Darkness decks took a back seat to Colorless and Psychic with Water staying strong as the most popular GLC type. The support package Water bring with Shady Dealings and Octillery allows for a lot of creative expression by Water deck builders. Fishy's Jump really took off in popularity this month - a deck created by the prolific deck builder JeoshuaObladi.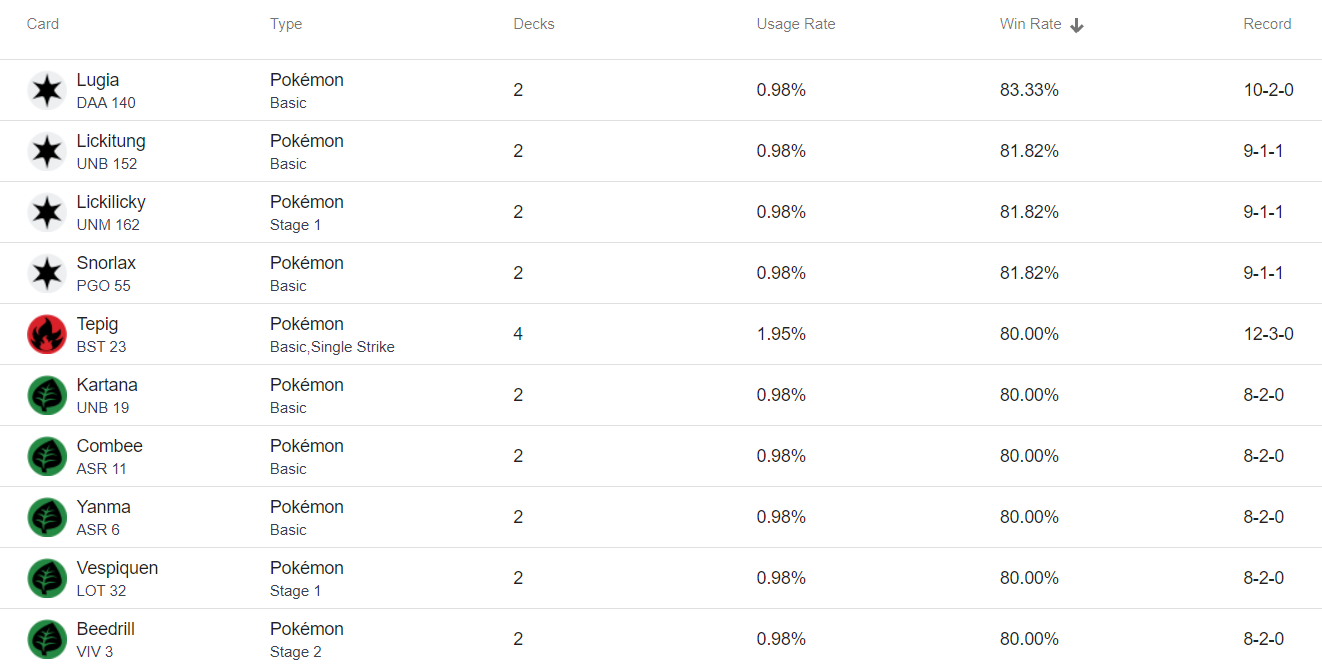 As for the winningest Pokemon, this month's crown is worn by Energy Loop Lugia! Ben Telfor played Lugia to 7-0 in a Friday night GLC tournament. Two unique decks dominated this category in addition to Ben Telfor's list. Maggara modernized his colorful take on Colorless with the inclusion of the Archeops package. He played this deck to the top 8 of the 1K pack event held online last August. This month, he found it just as effective, winning first place in a Wednesday Night GLC event! I played his deck to a 4-0 drop (due to time personal constraints). Little known fact; Limitless will include dropped players in top cut (and give them a loss!).
Another really special deck appeared in January created by Pelet, our new Grass Gym Leader. Bcevasco took a liking to his list and played it to a 6-0 tournament win without dropping a game, even through top cut. I wonder what Pelet is cooking next!
Trainers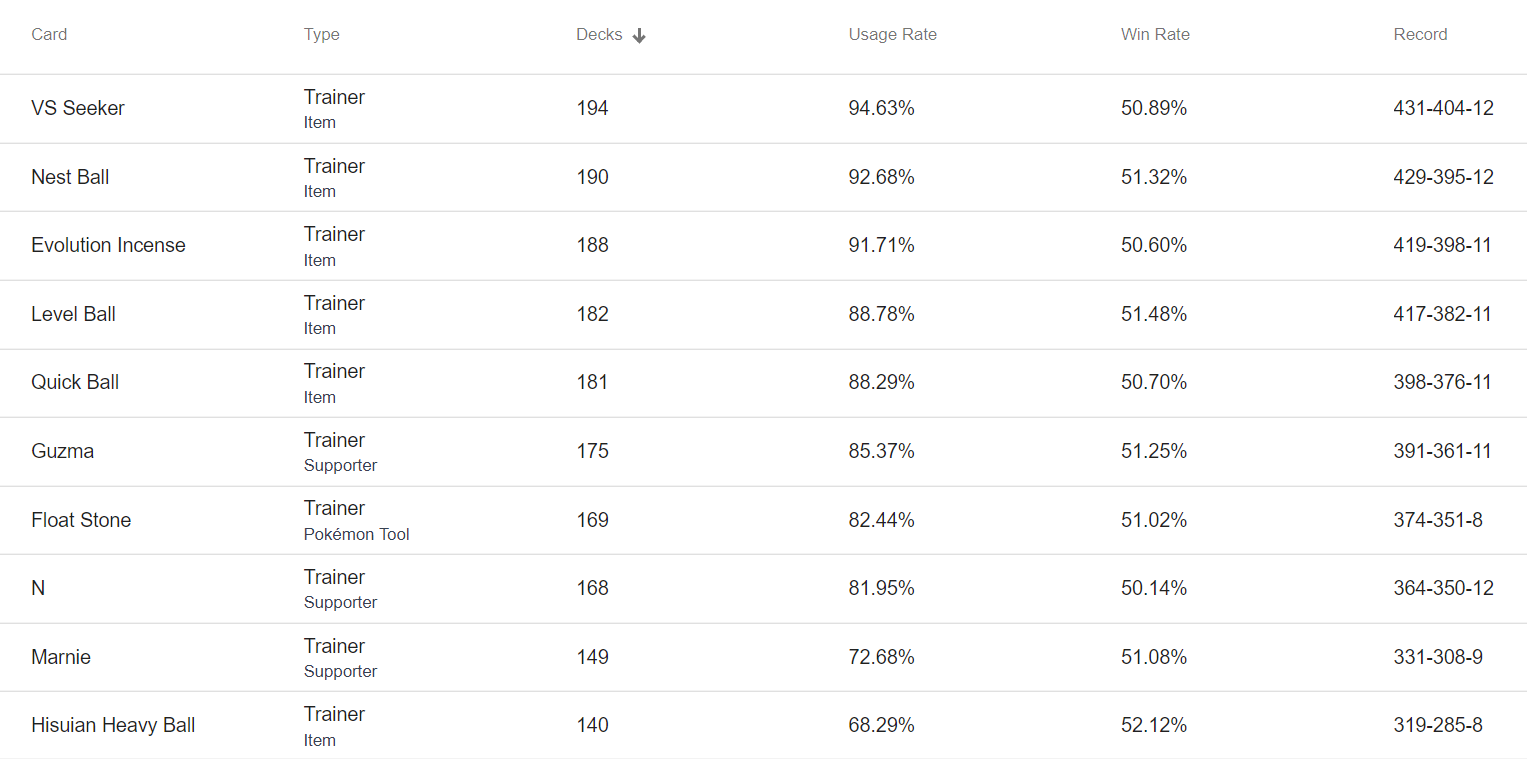 As usual, the who's who of GLC staples appeared in the most commonly played trainer list. Surpisingly, however, only 3 trainer cards appear in 90% of decks - VS Seeker, Nest Ball and Evolution Incense. Due to the large number of games involved with these commonly played cards, win rates all hovered around 50%.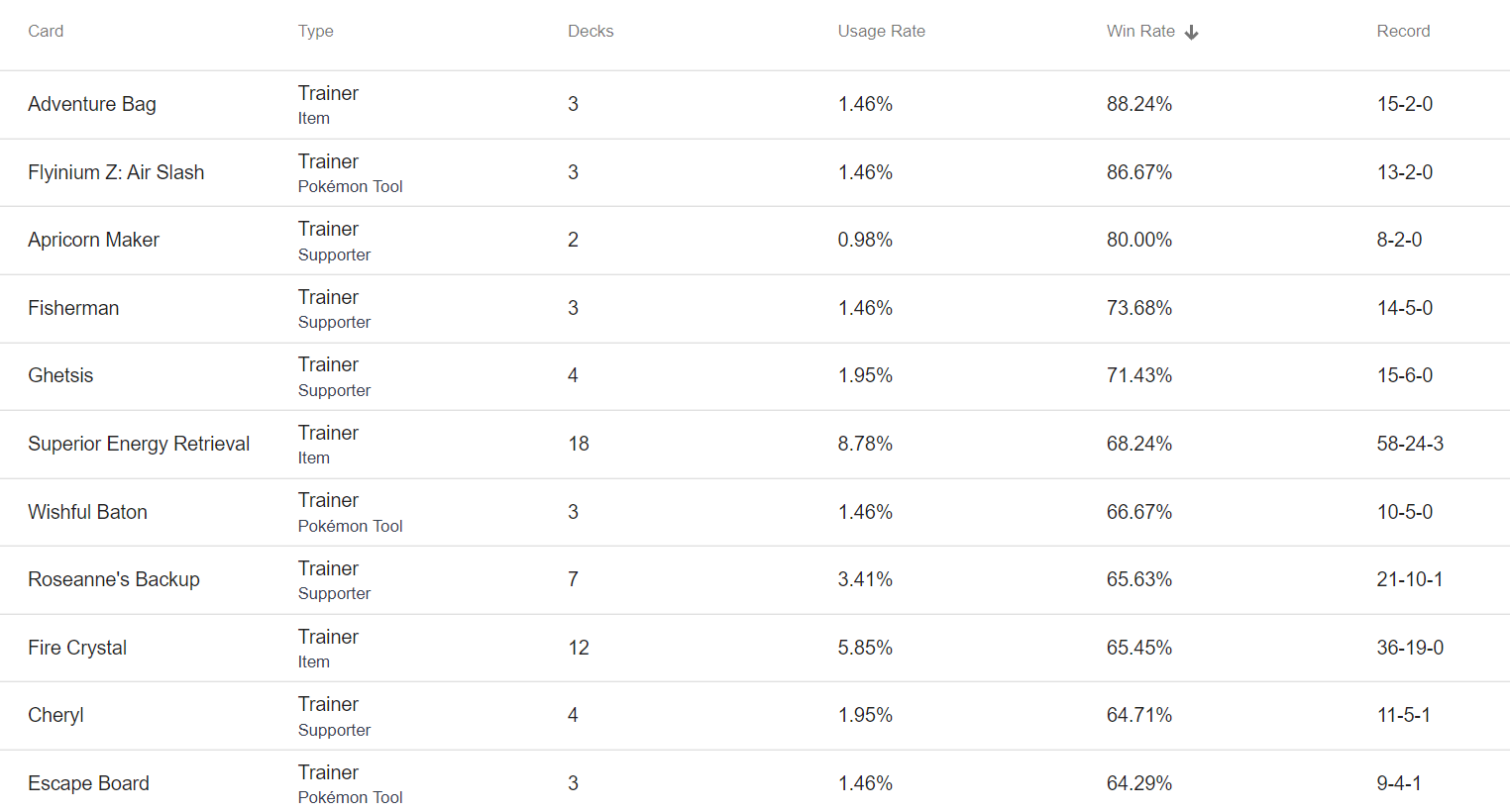 Some very cool cards showed up in the highest win rate query for trainer cards. Almost all the cards at the top are new to this list. Apricorn Maker and Ghetsis really stick out to me as unusual cards for GLC, but they were certainly proven to be effective! Ghetsis is played in Salva's Colorless Control deck that runs the supporter lock Stoutland. Apricorn Maker mades its debut in Pelet's new grass list.
Types

January 2023 continues to show the consistency and dominance of Colorless in Gym Leader Challenge. It remained around 60% win rate despite having the second most games played. Fire made huge progress in win rate thanks to Andrew Mahone and JeoshuaObladi's fire mill builds. The builds differ slightly, but the results have proven both, including Energan piltoing Mahone's list to 1st and 2nd place in different tournaments! Grass took a jump in win rate thanks to Yoshi's amazing month of January topping a tournament and placing very well in another. Lighting, unfortunately, continues to be at the bottom of the barrel. Maybe the month of February will give Lightning a chance to turn it around!
Thanks to all you Gym Trainers for tuning in! I will be back next month with another meta snapshot.