Today, I want to talk about one of the most interesting cards printed in a long time, Slowbro from Pokemon Go! First, I want to talk about it in a Kyogre Amazing-Rare list I placed 2nd with in the recent CardBoard Warriors GLC 1k event, and then I would like to feature a different Slowbro build I am still working on
Concept
The list is a fairly basic GLC Kyogre list. Your game plan is, as quickly as possible, amazing surge your opponent. Usually 2 attacks can completely wipe your opponents board. We load up Kyogre quickly with Milotic FLF which also knocks itself out and activates counter energy. Kyogre's biggest weakness is that sometimes it struggles to close games after Kyogre goes down. With Basculegion, Inteleon, and the new inclusion of Slowbro, closing games is much easier. Slowbro's Twilight Inspiration attack takes 2 prizes if your opponent only has 1 prize left , so this is a very powerful closing attack. Even if your opponent hasn't taken 5 prizes by the time you have 2 left, as long as you can loop Articuno you can "checkmate" your opponent.
I like to go first with this deck, it gives you the first turn of evolutions and your setup doesn't usually mind. In the early game I prioritize Sobble, because Aqua Bullet is an incredibly efficient attack early on and can set up math later for Kyogre. After Sobble, Feebas is necessary because it sets up our Kyogre. The only tricky scenario is if your opponent has some sort of bench barrier (Mr. Mime, Mew, Manaphy, or Sky Pillar). This can be easily played around with Silent Lab.
In Summation
I truly believe this deck has 0 bad matchups. Kyogre is so oppressive, and closing games isn't very difficult with Slowbro. My only loss in the 1K was to another Kyogre deck that played Manaphy. I think the deck is very easy to pick up and play, yet too oppressive against the meta. Despite the awkward looking attack cost it is surprisingly easy to power up quickly. If your opponent doesn't have an established board by the first Amazing surge, especially if the Kyogre has a Cape or Belt attached, you pretty much can't play the game.
Deck List
One change I would make from my 2ND place list is cutting Rotom Dex for Manaphy , to make the mirror slightly better. Consider also cutting Feebas DRM for Feebas EVS , so you can search it with Keep Calling. You have Manaphy to protect it.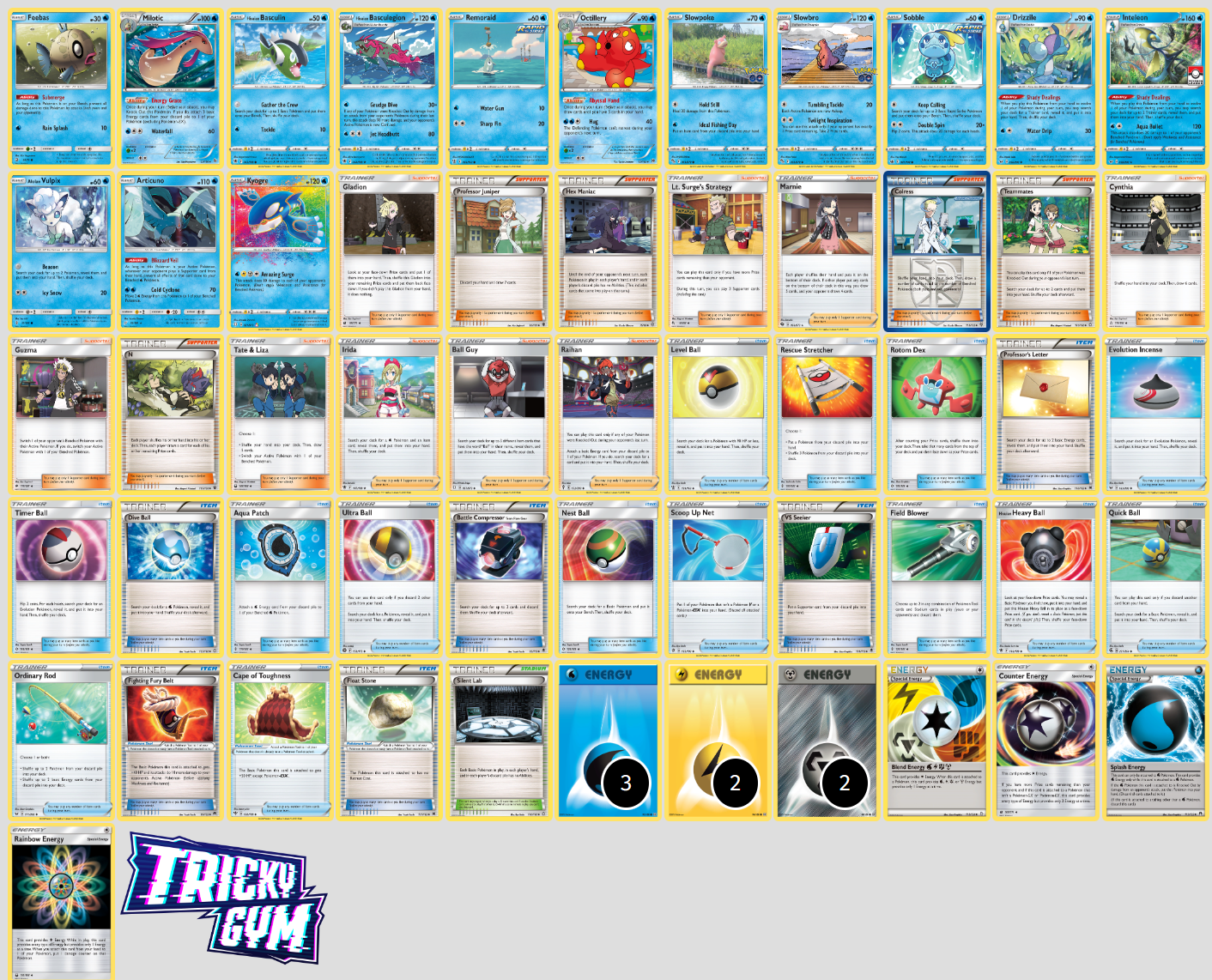 ##Pokemon - 14
1 Feebas DRM 28
1 Milotic FLF 23
1 Hisuian Basculin ASR 43
1 Hisuian Basculegion ASR 44
1 Remoraid BST 36
1 Octillery BKT 33
1 Slowpoke PGO 19
1 Slowbro PGO 20
1 Sobble CRE 41
1 Drizzile SSH 56
1 Inteleon SSH 58
1 Alolan Vulpix GRI 21
1 Articuno TEU 32
1 Kyogre SHF 21
##Trainers - 35
1 Gladion CIN 95
1 Professor Juniper PLB 84
1 Hex Maniac AOR 75
1 Lt. Surge's Strategy HIF 60
1 Marnie CPA 56
1 Colress PLS 118
1 Teammates PRC 141
1 Cynthia UPR 119
1 Guzma BUS 115
1 N FCO 105
1 Tate & Liza CES 148
1 Irida ASR 147
1 Ball Guy SHF 57
1 Raihan EVS 152
1 Level Ball BST 129
1 Rescue Stretcher GRI 130
1 Rotom Dex SUM 131
1 Professor's Letter BKT 146
1 Evolution Incense SSH 163
1 Timer Ball SUM 134
1 Dive Ball PRC 125
1 Aqua Patch GRI 119
1 Ultra Ball BRS 150
1 Battle Compressor PHF 92
1 Nest Ball SUM 123
1 Scoop Up Net RCL 165
1 VS Seeker PHF 109
1 Field Blower GRI 125
1 Hisuian Heavy Ball ASR 146
1 Quick Ball FST 237
1 Ordinary Rod SSH 171
1 Fighting Fury Belt BKP 99
1 Cape of Toughness DAA 160
1 Float Stone BKT 137
1 Silent Lab PRC 140
##Energy - 11
3 Water Energy 3
2 Lightning Energy 4
2 Metal Energy 8
1 Blend Energy WLFM DRX 118
1 Counter Energy CIN 100
1 Splash Energy BKP 113
1 Rainbow Energy CES 151
But We're Not Done Yet!
After my run with Kyogre, I kept thinking how strong Slowbro is. This led to me creating a new deck exclusively around Slowbro.
Concept
The concept is actually quite simple. Milotic EVS prevents cards like Marnie or N disrupting our hand, so we build our hand with Teammates and Steven's Resolve while we sit behind an Articuno until our opponent reaches 1 prize, then we counter catcher up a pokemon with heavy retreat, Reset Stamp them to 1 and use Drone Rotom to check their hand and top-deck. Then we move in with Slowbro and take all 6 prizes while our opponent is stuck! Trick Shovel also can be used to discard that top card we see off the drone if it is a way to move their active. We can put a Tool Jammer or Bodybuilding Dumbbells on our Slowbro to make it even more difficult to knock out. We also still have Inteleon and Basculegion in this list to still pressure our opponent if the scenario is right. This list is still under construction and could probably still be refined, but the concept on paper seems very powerful. As long as Kyogre is legal, I see little hope for this deck. Your Manaphy gets shut down and your board gets destroyed. Checking prizes cards is crucial for a deck like this, because if we are missing even 1 combo piece, things won't work. Make sure against any deck with a draw engine, when you stamp gust lock them, you Hex Maniac so they can't draw out of it as easily. If when you Drone Rotom, you see they have an out in hand, use Delinquent to get rid of their hand.
I haven't tested any matchups with this deck , but I can imagine a Psychic Spread deck or Colorless control would be very bad matchups. Consider adding Sky Pillar and Lusamine if you are struggling with spread.
Overall, I am very excited with the potential of Slowbro, on its own and in other archetypes. Big thanks to the Cardboard Warriors Team for letting me write this article. Happy Testing!
Deck List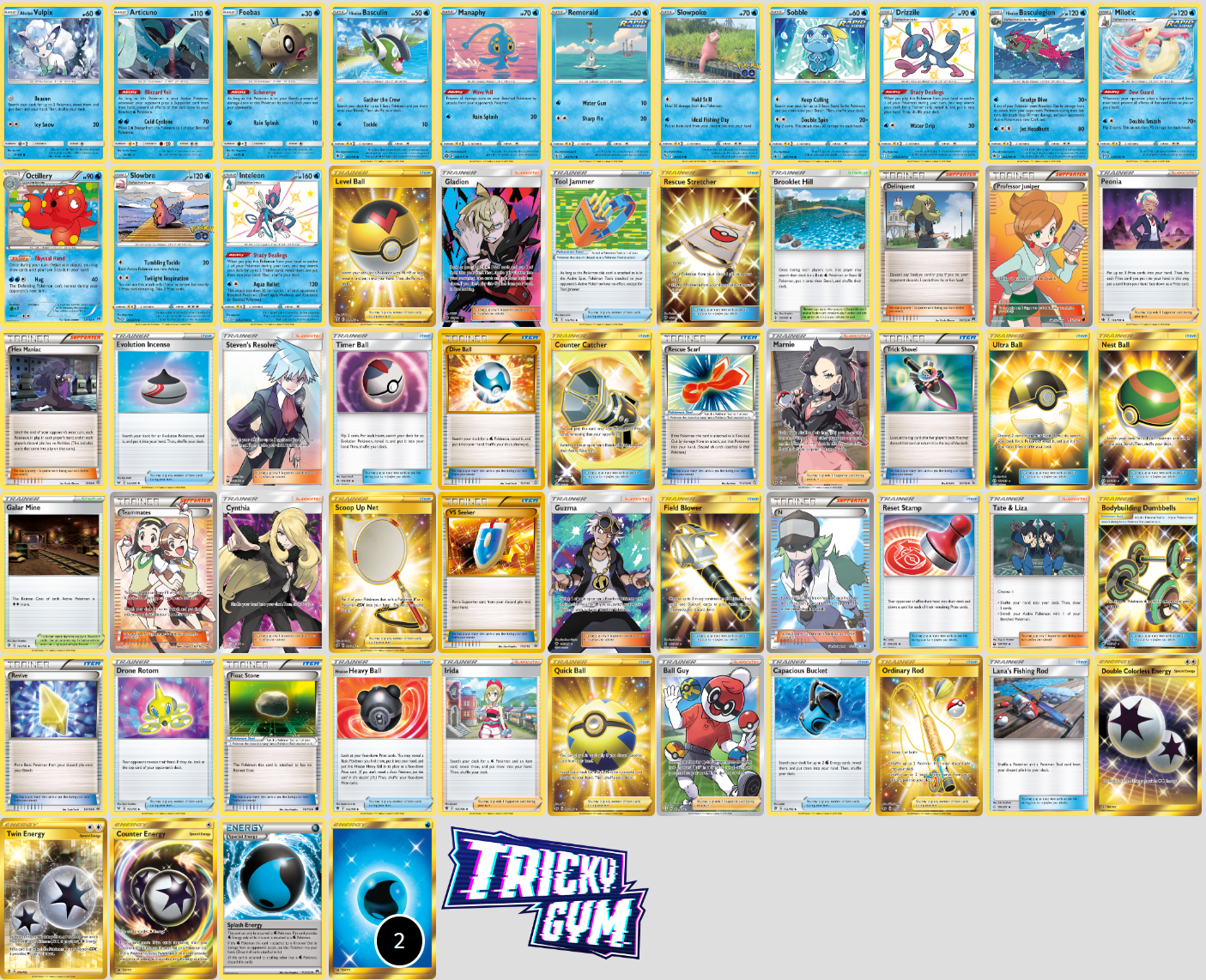 ##Pokémon - 14
* 1 Alolan Vulpix GRI 21
* 1 Articuno TEU 32
* 1 Feebas DRM 28
* 1 Hisuian Basculin ASR 43
* 1 Manaphy BRS 41
* 1 Remoraid BST 36
* 1 Slowpoke PGO 19
* 1 Sobble CRE 41
* 1 Drizzile SHF 99
* 1 Hisuian Basculegion ASR 44
* 1 Milotic EVS 38
* 1 Octillery BKT 33
* 1 Slowbro PGO 20
* 1 Inteleon SHF 100
##Trainer Cards - 40
* 1 Level Ball BST 181
* 1 Gladion CIN 109
* 1 Tool Jammer BST 136
* 1 Rescue Stretcher BUS 165
* 1 Brooklet Hill GRI 120
* 1 Delinquent BKP 98
* 1 Professor Juniper PLF 116
* 1 Peonia CRE 149
* 1 Hex Maniac AOR 75
* 1 Evolution Incense SSH 163
* 1 Steven's Resolve CES 165
* 1 Timer Ball SUM 134
* 1 Dive Ball PRC 161
* 1 Counter Catcher CIN 120
* 1 Rescue Scarf DRX 115
* 1 Marnie SSH 200
* 1 Trick Shovel FLF 98
* 1 Ultra Ball SUM 161
* 1 Nest Ball SUM 158
* 1 Galar Mine RCL 160
* 1 Teammates PRC 160
* 1 Cynthia UPR 148
* 1 Scoop Up Net RCL 207
* 1 VS Seeker ROS 110
* 1 Guzma BUS 143
* 1 Field Blower GRI 163
* 1 N NVI 101
* 1 Reset Stamp UNM 206
* 1 Tate & Liza CES 148
* 1 Bodybuilding Dumbbells BUS 161
* 1 Revive ROS 88
* 1 Drone Rotom VIV 151
* 1 Float Stone PLF 99
* 1 Hisuian Heavy Ball ASR 146
* 1 Irida ASR 147
* 1 Quick Ball SSH 216
* 1 Ball Guy SHF 65
* 1 Capacious Bucket RCL 156
* 1 Ordinary Rod SSH 215
* 1 Lana's Fishing Rod CEC 195
##Energy - 6
* 1 Double Colorless Energy GRI 166
* 1 Twin Energy RCL 209
* 1 Counter Energy CIN 122
* 1 Splash Energy BKP 113
* 2 Water Energy CIN 124