With the latest updates in the GLC card pool from Astral Radiance, the Venusaur/Rillaboom grass archetype got a huge boost. This grass list has one of the strongest and most controversial attackers in the game, Torterra. Previously, Torterra was already a lot to handle with a pot helmet and an effective 220 HP. Adding in Astral Radiance's Kricketune gives an additional 40 HP to Torterra to reach an effective 260 HP and nearly guarantees a 2 for 1 prize trade. But Torterra was already a lot to handle before ASR.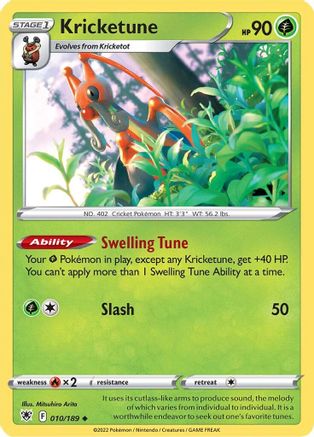 The engine of this deck is the combination of Grotle and Grovyle with their Pokemon search abilities. Searching your deck for two Pokemon a turn makes setting up Kricketune, Venusaur and Rillaboom a breeze. Once Venusaur and Rillaboom get into play, there's almost no way to lose.
And I haven't even mentioned the two main attackers yet - Zarude and Shining Genesect. These basic attackers hit for 120 and 110 damage, respectively, with their base attacks. But when you add in Venusaur's Jungle Totem ability makes each grass enery in play count twice, their damage goes through the roof. And while the damage has gone up, in this deck, so has the tankiness. I've added in Aether Paradise Convservation Area which decreases damage taken by basic grass and lightning pokemon by 30. With a common setup of Aether Paradise Conservation Area, Fighting Fury Belt or Pot Helmet, Zarude and Shining Genesect now have over 200 effective HP and can easily hit for upwards of 150-190 damage.
How to play:
Here's a quick run down of how I play this deck which has taken me to 9-1 in my last 10 best of 3s, as well as winning a local swiss tournament. Keep in mind that this is only a rough outline, and that these steps may be omitted, changed based on prizing and the matchup.
Start second, and if given the option, start Zarude or Kricketot.
Get the engine, Grotle and Grovyle, going.
Prioritize getting out Rillaboom and Venusaur (squeeze in Kricketune in here if at all possible). Usually some search items have been drawn in the first couple of turns that help setup 4-5 pokemon lines at a single time.
Attack with Zarude/Shining Genesect and put them back in the deck to attack again once KOed.
Bring in Torterra once Pokemon searching is no longer needed and before your evolutions get knocked out.
Note: Save energy as much as possible since by the end of a close game, you can nearly run out.
Deck Edits
I've made a few edits versus the gymleaderchallenge.com list that I will spell out here:
Remove Sceptile - win more card

Remove Timer Ball - don't need the search

Remove Ultra Ball - don't need the search

Remove Sonia - don't need the search

Remove Super Rod - if you manage resources effectively, this many retrieval cards is overkill

Remove Town Map - there's just not room, in my opinion

Remove one grass energy

Add Avery - an amazing card in the grass mirror and against many other decks

Add Kricketot

Add Kricketune

Add Aether Paradise

Add Erika's Hospitality - can be a life saver when dead drawing

Add Scoop Up Net - fantastic synergy with Roserade

Add Gladion - can be absolutely crucial when prizing poorly
If you'd like to run the list, try it out and let me know how it goes!
PTCGO Deck Export
##Pokémon - 17
1 Bulbasaur DET 1
1 Grookey SSH 11
1 Kricketot BKP 5
1 Roselia UPR 4
1 Shining Genesect SLG 9
1 Treecko LOT 20
1 Turtwig UPR 6
1 Zarude CRE 19
1 Grotle BRS 7
1 Grovyle LOT 21
1 Ivysaur DEX 2
1 Kricketune ASR 10
1 Roserade DRX 15
1 Thwackey SHF 12
1 Rillaboom SHF 13
1 Torterra BRS 8
1 Venusaur SLG 3
##Trainer Cards - 32
1 Pot Helmet BRS 146
1 Avery CRE 130
1 Evolution Incense SSH 163
1 Revitalizer GEN 70
1 Ordinary Rod SSH 171
1 Gloria BRS 141
1 Erika's Hospitality TEU 140
1 Tate & Liza CES 148
1 Aether Paradise Conservation Area GRI 116
1 Nest Ball SUM 123
1 Quick Ball SSH 179
1 Brigette BKT 134
1 Evosoda XY 116
1 Rare Candy SSH 180
1 Cynthia UPR 119
1 Professor's Research SHF 60
1 Teammates PRC 141
1 Field Blower GRI 125
1 Guzma BUS 115
1 Colress PLS 118
1 Fighting Fury Belt BKP 99
1 Boss's Orders SHF 58
1 Scoop Up Net RCL 165
1 Gladion CIN 95
1 Escape Rope BST 125
1 N FCO 105
1 Level Ball BST 129
1 Net Ball LOT 187
1 Float Stone BKT 137
1 Marnie SSH 169
1 VS Seeker PHF 109
1 Turffield Stadium RCL 170
##Energy - 11
Total Cards - 60