Hello gym leaders! Today, I'm happy to share with you a deck rundown from YoshiTr4cker himself! Yoshi has used this deck to perfection, winning many, many tournaments with it! This deck is stacked with impactful cards and a unique take on linear grass. Look no further if you are a grass gym leader.
Introduction
Grass is a tier 1 type with access to some of the best support Pokémon in the entirety of the Gym Leader Challenge format. Rillaboom, Venusaur, Roserade and Grotle make this deck effective and consistent across the board. In addition to the amazing support Pokémon, Grass also has access to some of the best linear attackers in Gym Leader Challenge. Zarude and Shining Genesect are powerful attackers when combined with the energy acceleration of Venusaur and Rillaboom. They are also Basic Pokémon, which allows easy recycling and setup of their attacks. Once Venusaur and Rillaboom are online, in a single turn, you can pull either Zarude or Shining Genesect from the discard pile, put into play, power up with energy and attack for 130+ damage. Most grass lists follow a similar pattern of Pokémon and trainer card inclusions because the archetype is so powerful. However, Yoshi included some unique cards that suit his playstyle.
The Secret Sauce
With the need to setup so many Pokémon all at once, Yoshi decided to give his deck the ability do setup quickly and consistently. That's where Shaymin comes in.
Shaymin's Encouraging Gift attack let's you search your deck for any 3 cards and put them into your hand on turn one going second. Theoretically, such limited opportunity to use an attack could be a hinderance, but when this attack goes off, the deck ramps very quickly. Imagine a turn one Gloria to get Grookey, Turtwig and Shining Genesect onto the bench, into Encouraging Gift to pull out Rare Candy, Grotle, and any other card. That's a turn 2 Rillaboom with an attacking Genesect putting 110 damage on the field.
Now getting this attack off is difficult with a normal Grass list, but for that reason, Yoshi included many switching cards to help add to the consistency of the turn 1 Shaymin with Escape Rope, Switch, Scoop Up Net, Air Ballon and Float Stone.
Hex Maniac is another card that sees some play in the Gym Leader Challenge format, but is often overlooked in Grass deck lists. Yoshi says this is his favorite card because it provides additional win conditions in scenarios that would otherwise be unwinnable. For instance, he referenced a matchup against another great player, JeoshuaObladi, where Yoshi felt there was no chance to win. Jeoshua Ned Yoshi into Hex, and the Hex allowed Yoshi to take the last 3 prizes of the matchup and win by disabling the Water abilities on Jeoshua's board.
The one downside to Hex is that it disables Venusaur's ability that provides energy acceleration. This is something trainers should keep in mind when playing Hex.
Another notable mention for Yoshi's Grass list is the lack of the Kricketune line. Kricketune from ASR is a common inclusion in most modern grass lists, but Yoshi cut it to make room for Shaymin and a switching card. This allows his list to be more consistent early game and ramp faster.
Early Game
Always go second when given the option. Bring out your Pokémon as fast as possible with Gloria, and get Shaymin's Encouraging Gift attack off if at all possible. Focus on attacking with Torterra early once the board is setup, thus maximizing the power of its Evopress attack. In addition, you may be able to recycle the Torterra line to attack with it again later.
Yoshi emphasizes using Shining Genesect as the first attacker because of its Energy Reload ability. It can commonly attack turn 2 or 3 for 110+ damage.
Late Game
There are a few cards to save for late game to make check-mate plays. A timely Field Blower, Scoop Up Net or N in the late game can swing matchups. As mentioned before, playing Hex Maniac at the right time can be game winning as well.
Difficult Matchups
AR Kyogre
Yoshi lists AR Kyogre as his most difficult matchup. Because Kyogre can OHKO your board on turn 2, it is important to try and evolve your support Pokémon before they get wiped. However, a turn 2 going first Kyogre attack (which is quite feasible), is almost assuredly a Kyogre win.
Yoshi likes to save Zarude and Shining Genesect until after the first Kyogre attack to preserve some of their HP.
Hope they brick 🤷.
Metal
Metal is a challenging matchup because of its common grass resistance reducing damage of Grass attacks.
Melmetal with its Ingot Swing attack prevents damage on the following turn by attackers with abilities. This shuts down most Grass attackers.
Copperajah is also problem due to its HP pool and 220 damage attack.
Metal has a plethora of tools available to give damage reduction in addition to its Grass resistance. It is realistic to see a board where Grass attacks have of 90 damage reduced on each attack.
Dark
A volatile matchup, Dark can be difficult if it get's its ability lock going early with Galarian Weezing.
Weavile is a strong attacker requiring only a single energy that can OHKO any Grass attacker.
In Summation
I would like to thank Yoshi for contributing his thoughts and list to our spotlight section. His take on grass is somewhat unique and very powerful. Thanks for reading another spotlight, Gym Leaders!
Deck List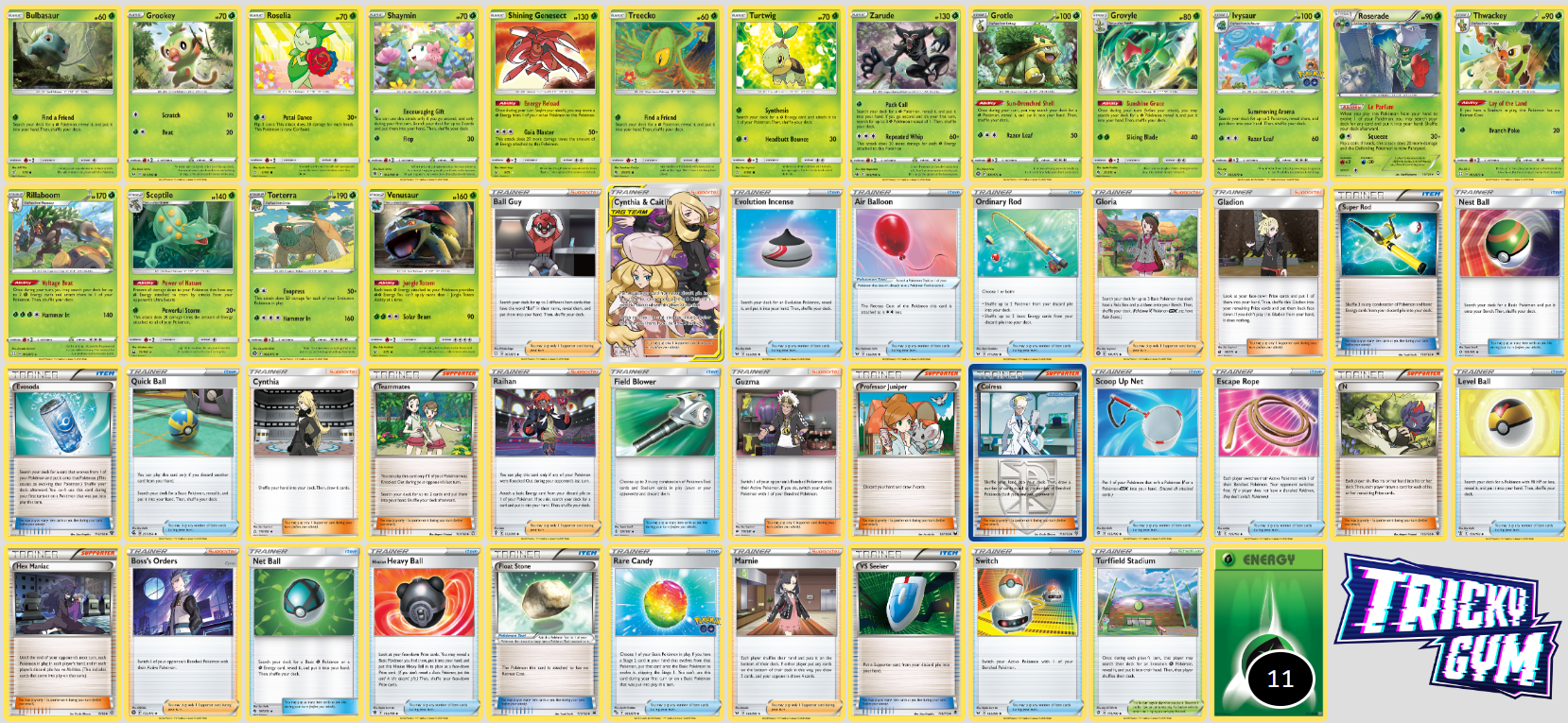 ##Pokémon - 17
1 Bulbasaur DET 1
1 Grookey SSH 11
1 Roselia UPR 4
1 Shaymin ASR 14
1 Shining Genesect SLG 9
1 Treecko LOT 20
1 Turtwig UPR 6
1 Zarude CRE 19
1 Grotle BRS 7
1 Grovyle LOT 21
1 Ivysaur PGO 2
1 Roserade DRX 15
1 Thwackey SHF 12
1 Rillaboom SHF 13
1 Sceptile CES 10
1 Torterra BRS 8
1 Venusaur SLG 3
##Trainer Cards - 32
1 Cynthia & Caitlin CEC 228
1 N FCO 105
1 Gladion CIN 95
1 Boss's Orders BRS 132
1 Hex Maniac AOR 75
1 Cynthia UPR 119
1 Teammates PRC 141
1 Raihan EVS 152
1 Guzma BUS 115
1 Professor Juniper DEX 98
1 Colress PLS 118
1 Gloria BRS 141
1 Marnie SSH 169
1 Ball Guy SHF 57
1 Evolution Incense SSH 163
1 Ordinary Rod SSH 171
1 Super Rod BKT 149
1 Nest Ball SUM 123
1 Switch SSH 183
1 Quick Ball FST 237
1 Evosoda XY 116
1 Field Blower GRI 125
1 Scoop Up Net RCL 165
1 Level Ball BST 129
1 Escape Rope BST 125
1 Net Ball LOT 187
1 Hisuian Heavy Ball ASR 146
1 Rare Candy PGO 69
1 VS Seeker PHF 109
1 Air Balloon SSH 156
1 Float Stone BKT 137
1 Turffield Stadium RCL 170
##Energy - 11
Total Cards - 60